The Misaw Lake Lodge brochure promised it all.
Trophy northern pike and lake trout, a chance at elusive Arctic grayling, a protected wilderness of peaceful beauty and a guest limit of just sixteen at a Saskatchewan fly-in lodge bumping up against the 60th Parallel, so far north that the last road ends 125 miles south.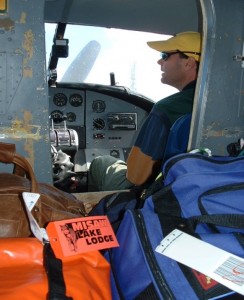 It's the first week of July. Eight of us are crammed alongside our gear in a single-engine Otter float plane, gaining altitude off Kasba Lake in the Northwest Territories, heading west across the Saskatchewan border to Misaw Lake.
As we begin our descent, there are groans all around. It's the first week of July and the lake is half-covered with ice. I am mentally reviewing the clothes in the duffle at my feet, hoping there are enough layers among my L.L. Bean duds to sustain me.
We arrive at the camp, drop our gear in assigned cabins, and then we eat, packing in calories to ward off the brisk lake winds. Platters of French toast, fish, sausages, hash browns, and carafes of steaming coffee emerge from the small kitchen. So much for any thoughts of dieting.
The cook who is also named Betty grasps my hands in greeting, obviously thrilled that there is a woman in camp. She tells me at length how she works at this camp and others, moving south in the province as the weather turns cold in the north.
The camp owner makes an appearance. He's an ex-Pittsburgh cop living a long-held dream of operating a fly-in fishing lodge on a catch-and-release lake in the heart of some of the most pristine wilderness in all of Canada.
He runs the place like a good-natured drill sergeant, ticking off a laundry list of rules. Meals are served at the scheduled times. The gasoline powered generator will be shut down at 10:00 PM (not a big problem because it will still be dusky light at 3:00 AM). Fishing is with non-barbed hooks only. ALL fish must be released except those kept for shore lunch.
And don't feed the bears that amble through camp because it encourages them to stay.
Bears? BEARS in camp!? I am unprepared for this news! I toss a narrow-eyed glare at my husband, who convinced me this would be a memorable experience.
To divert this troubling train of thought I glance at the dining room wall. It's lined with thumb-tacked Polaroid photos of grinning sportsmen (and one woman). Each hefts a trophy northern pike, which I learn must measure at least 40 inches to qualify for The Wall, a wide-girthed lake trout the size of a medium-size dog, or an elusive Arctic grayling coaxed from a rocky eddy in the crystal-clear Schwandt River.
It's these prizes and the promise that the monsters are there for the taking that lure fishing enthusiasts of both genders from all over North America and beyond to this vast wilderness almost 800 miles north of Winnipeg.
My goal becomes clear: I must catch a fish that qualifies for The Wall.
Each day the routine is the same. At 6:30 AM, camp staff delivers coffee and juice to the front porch of each well-equipped cabin. Don't worry about sunrise because at this time of the year, the sun never quite sets.
At 7:00 AM, head to the dining room for more coffee and a hearty breakfast. The Wall draws attention. Promises of "Look for my picture there tonight" circulate around the room along with good-natured gibes.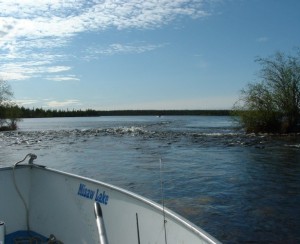 At 8:00 AM, eight Alumarine Proguide boats, each outfitted with 40 horsepower Yamaha motors, a local guide (ours is an affable First Nation Indian named Ralph), and two hopeful trophy-seekers, roar away from the docks, each to a different corner of 26-mile-long Misaw and adjacent lakes.
For the next several hours, fishing is serious business. Plying the shoreline with one arcing cast after another, we revel in the silence that is broken only by the swift flight of birds overhead. Anticipation is high as we nudge northerns measuring in the 25-to 30-inch range out of the reedy shallows in explosions of silvery spray.
Misaw Lake has never been commercially fished, but it has had plenty of media exposure, thanks to the likes of Field & Stream, In-Fisherman, Bass Pro Shops "Outdoor World," and ESPN.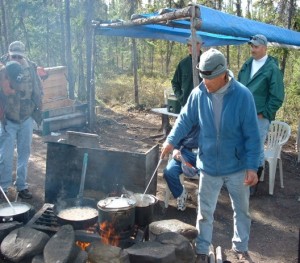 The camp has several regulars among the 16 guests who check in for 4-night-or-longer stays during the short season from mid-June (if the lake ice is open) through the second week of August.
By limiting the number of guests, the owners hopes to minimize fishing pressure, thus ensuring a successful experience for everyone. From my perspective, it's already a success, as we haul in a very respectable number of fish, keeping just two of them as our contribution to the day's shore lunch.
During our stay, we'll fish the far reaches of Misaw Lake, make a double portage—one by carefully motoring up a swift-moving rapids—to nearby Appippyew Lake, and haul our fishing gear over spongy boot-sucking permafrost to the famous Schwandt River.
Here we try our hand at fly-fishing from the shore, probing the rocky eddies for the legendary Arctic grayling before returning to the boat and our quest for a fish worthy of The Wall.
By midday the weather is warming and we drift idly in and out of the golden reeds, lulled by complete and total quiet.
At day's end we return to camp and another meal fit for a lumberjack. Blame it on the fresh air, I rationalize, as we tuck nightly into tasty dinners of prime rib with garlic mashed potatoes, chicken parmesan with pasta, barbequed ribs with wild rice, fettucine alfredo and plenty of fresh fish.
My husband has succeeded in catching a 41" trophy northern with a girth nearly double that of a Wisconsin-bred northern. Ralph digs in his duffle for the Polaroid camera. It is the last day and we are on Appippyew Lake. Northerns are striking at a near-frenzied pace and I am claiming fish in the mid-30-inch range.
Tension is mounting.
A flash of silver darts up from the crystal-clear depths and strikes my bait with a wrenching force. I struggle to coax and cajole the monster until it is alongside the boat where Ralph nets it.
Surely this one will make The Wall.
Ralph exclaims over the fish's girth—a big one! he says. He agrees that it is probably a trophy and reaches for his tape measure.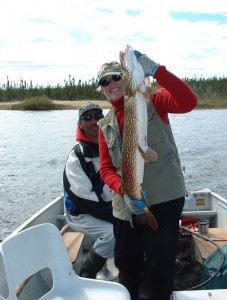 Thirty-nine-and-a-half inches. Groan.
Can we stretch the fish a bit? I ask.
Ralph shakes his head. Fish don't stretch, he instructs. I reluctantly concede this fact of nature and we gently slip the impressive catch back into the swirling water.
Ralph turns the boat toward the sunset and we head back to Misaw Lake Lodge.
Mentally, I mark the spot.
Oh well, I think. Now I'll know where to find him the next time, after he has grown that extra half inch.
###
This "Traveling Writer" column was originally published in several Midwest newspapers. For more information about Misaw Lake Lodge, look here. Photos by Betty W. Stark
http://traveling-writer.com.225.69-195-198.groveurl.com/wp-content/uploads/2013/09/logo1.png
0
0
Betty Stark
http://traveling-writer.com.225.69-195-198.groveurl.com/wp-content/uploads/2013/09/logo1.png
Betty Stark
2015-10-30 10:36:32
2015-11-05 14:29:29
Saskatchewan - Tracking a Trophy in the Wilds