Not many travelers know about Steinhatchee, an unpretentious little town on the Gulf Coast of Florida where the state bends south from the Panhandle and swoops toward the bustle of Tampa.
That part of the state is sparsely populated, networked with hundreds of miles of country roads sheltered by cypress and cedar trees draped in Spanish moss and crisscrossed with rivers that meander lazily through vast reaches of sea grass toward the Gulf of Mexico.
Steinhatchee  (pronounced STEEN-hatch-ee) is about 60 miles southwest of Gainesville and about 50 years distant from the stress and structure of today's high speed world. It's so unplugged that your cell phone won't work unless you're standing on the 10th Street Bridge where it swings south across the Steinhatchee River to Jena on the other side.
Don't even think about going there if you crave a vacation spot with flash and dash. Steinhatchee just isn't that kind of place, and that's precisely what makes it so appealing to travelers with the right frame of mind.
Even at the height of the winter season, it's unlikely you'll encounter traffic jams creeping along Highway 51 toward the century-old burg. When you get there you won't find strings of traffic lights or fancy boutiques. In fact, you won't find beaches within walking distance or water parks, and there's only one establishment that could qualify as a saloon. If all of this appeals to you, Steinhatchee just might be worth a visit.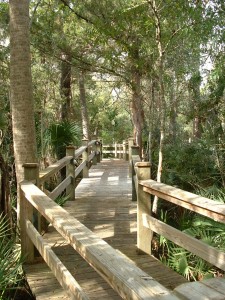 About 800 people live there, most of them fishermen and loggers who are content to live their lives barely above idle. Those tourists who do find their way to Steinhatchee stay awhile because of the slow-and-easy pace along the banks of the Steinhatchee River where it meets up with King's Creek and then flows clear and cool to the Gulf.
The fishing is good-to-great year-round and that's a big draw. The locals you'll meet at the Bridge End Cafe or Mason's Market or the Fiddler's Restaurant will be friendly and happy to see you as long as you aren't there to change things.
This is not to say that Steinhatchee doesn't have a "peak season"—-it's just not when you'd expect it. For an almost-intense 72 days from July 1 to September 10 when the summer sun is sizzling, the town sheds its small fishing village sleepiness as car loads of visitors stream down the main thoroughfare from northern and central Florida and states to the north.
Moms, dads (sometimes grandparents), and exuberant kids in pint-size snorkel masks, trek to the watery flats and sea grasses of Florida's Nature Coast for the summer scalloping season.
Hustling down marina docks hauling pails, snorkel gear, sun block and mesh bags, they hop into rented boats and head out to the sandy saltwater flats of the Gulf in search of the succulent palm-sized delicacies.
The short-lived mollusks favor shallow water, generally three to six feet, so nabbing them from among the undulating sea grasses is relatively simple for anyone from five to 85. They're easy to spot and just as easy to catch, using a fishing net or even bare hands.
Back on shore, friendly locals with heavily duct-taped fingers offer shucking services for around $6 a pound. Some of them grumble about the chaotic opening day of the season, comparing it to the first five minutes of the Super Bowl.
But others, like Jim Hunt who owns the Fiddler's Restaurant, understand that this is their time to make it or break it.
"If you don't make your money now," Hunt says, "you're going to starve."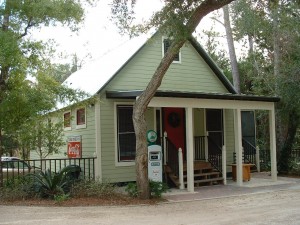 Hunt and his staff are so accommodating that they'll even prepare your catch for dinner, sautéed, broiled, fried or grilled with a luscious lime butter sauce—your choice.
With the scallopers and the fishermen and visitors seeking solitude comes another fact of life that worries locals. Many visitors like what they see and they want to have their own piece of paradise.
Northerners and Floridians are buying parcels of land that edge up to the marshes and command sweeping views west to the Gulf of Mexico. They're building elaborate getaways showcasing the popular Key West and Florida Cracker architectural styles, perching them on raised and heavily reinforced pilings that meet rigorous building standards designed to protect the properties from hurricane-propelled sea surges.
One outsider who has managed to make the right moves and win approval from locals is Dean Fowler, owner/developer of the Steinhatchee Landing Resort off Highway 51 where the river bends to the north at the edge of town.
Fowler discovered the area about 15 years ago and was so taken with it that he gave up his hard-charging life as the owner of 57 nursing homes to focus on the peace and tranquility of life along the banks of the Steinhatchee.
His resort is sheltered by towering pines and moss-draped live oaks. Lush flower beds accent 36 privately-owned Victorian and Florida Cracker cottages (available for rent) that are tucked along meandering lanes, looking like a comfy river's edge neighborhood that has been there for decades.
The cottages vary in size and amenities and are just about perfect for family reunions, wedding groups, holiday celebrations and even corporate retreats. Honeymooners seeking privacy in a tranquil setting can choose from six charming cottages, each with elegant linens, elaborate bathtubs and many with fireplaces.
Fowler, a long-time Georgia businessman and political activist counts former President Jimmy Carter and his family among his good friends. The extended Carter family have been guests here a couple of times, renting two or three adjacent homes and spending long hours plying the waters of the Steinhatchee River and Deadman's Bay in leisurely pursuit of sea trout, redfish and grouper.
What all the attention means to this tucked-away town that cherishes its easy-going lifestyle is anyone's guess. Some development and change is inevitable, but with luck, little Steinhatchee will continue to be what it has been for decades: a small village that is content to coast through life as long as the sun is shining and the fish are biting.
http://www.traveling-writer.com/wp-content/uploads/2013/09/Steinhatchee-FL-037.jpg
960
1280
Betty Stark
http://traveling-writer.com.225.69-195-198.groveurl.com/wp-content/uploads/2013/09/logo1.png
Betty Stark
2013-05-11 10:19:38
2013-11-04 10:15:16
Finding Old Florida in a Forgotten Gulf Coast Town