Las Vegas, New Mexico is located about 65 miles east of Santa Fe and light years from the "real" Las Vegas. I spent several days there a few years ago and it still lingers in my memory as a unique and quirky place. Some of the places I visited, and locals I met might—or might not—still be there, but chances are the town's quirkiness and characters remain. ͠
There was a time if you stopped by the Hillcrest Restaurant on Grand Avenue in Las Vegas, New Mexico about six in the morning, you'd probably see Clyde Pickett having breakfast at the counter.
When I met him, Clyde was a retired Las Vegas cowboy, still riding and roping in rodeo events and occasionally helping local ranchers brand their little dogies and ship them to market.
When he wasn't in the saddle, Clyde did something very un-cowboy-like. He made baskets, using up the remnants of his old nylon lariats, artistically coiling them and tagging them with a little card that read "When some things die they go to a casket. When this rope "died," it became a basket!"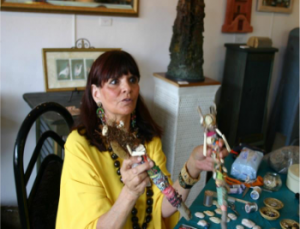 Clyde's handsome baskets sold for a pretty penny at Art and Stones, an eclectic shop on the historic Plaza that showcased the works of several area artists. Bambi Doe Blake sold her one-of-a-kind spirit stick dolls at Art and Stones too, and if you were lucky, you'd find her at her work table near the front door.
Bambi painstakingly wrapped narrow strips of antique silk fabric around elm sticks snipped from trees in her back yard, then glued on a delicate clay face, dried cornhusks or thin sheets of moss. Sometimes she'd add adornments of bone or glass beads, semi precious gem stones, seeds, feathers, or more twigs. And sometimes she'd tuck in a secret message "close to the heart."
"The stick determines the shape and personality of the doll," Bambi explained. "I just let nature find the way."
Las Vegas, New Mexico is the kind of town where a cowboy can be an artist and still sit tall in the saddle. It has a history that goes way back to the days of the Santa Fe Trail, when the west was wild and the windmill in the Plaza doubled as a gallows.
Billy the Kid and Doc Holliday rode into town on occasion, and so did every wagon train heading through the Southwest. Notorious outlaws with colorful names like Scar-Face Charlie, Flapjack Bill and the Durango Kid blasted through from time to time.
In the late 1800's Teddy Roosevelt galloped in to recruit volunteers for his Rough Riders cavalry regiment. Twenty one men from Las Vegas signed on.
Individualists, hooligans and entrepreneurs found Las Vegas, and Hollywood did too, discovering its scenic beauty and Old West allure in the early twentieth century. Tom Mix arrived in 1913, took up residence at the historic Plaza Hotel, and in a little over a year, he made 16 silent films.
More recently, Las Vegas was the location for several movies including Red Dawn, Easy Rider, Convoy, All the Pretty Horses, the Lazarus Man and Wyatt Earp. It's rumored around town that several actors fell in love with Las Vegas and now own homes or land in the area.
It's easy to see what attracts them. The town, current population about 14,000 sits at an elevation of 6,470 feet in the northeast corner of New Mexico, about an hour east of Santa Fe and 123 easy driving miles from Albuquerque through a grandeur of open spaces.
Here in the high prairie, the horizon is decorated with the dramatic purple sweep of the Sangre de Cristo mountain range under a vast canopy of cottony white clouds or winking stars, unblemished by big city smog or neon lights.
The people are friendly, the crime rate is low, restaurants are surprisingly good and the weather is declared by most to be just about ideal—-"Not too hot, not too cold, and a blanket of snow around Christmastime."
They call it "the other Las Vegas," and once you've been to this Las Vegas, you know that's not an apology. It's about as far removed from the glitz and glitter of Las Vegas, Nevada and its lavish casinos as you can get, but make no mistake. It can be equally as interesting in a different way and a whole lot more down to earth. That alone makes it a very fine place to visit.
To say that the town is packed with historical significance is an understatement. Las Vegas was founded in 1835, and covered wagon ruts from the original Santa Fe Trail are still evident just outside of town.
Thanks to the work of the Citizens' Committee for Historic Preservation, there are close to 1000 buildings on the National Register of Historic Places, and more to come. Mayor at the time of my visit, Henry Sanchez, a former football coach, was a passionate promoter of his beloved town and (he confided to this Wisconsin writer) a disciple of legendary Packer coach Vince Lombardi.
His enthusiasm, along with a robust Department of Community Development was setting a solid course for Las Vegas that staunchly recognized the past and carefully planned for the future.
Outdoor enthusiasts who discover Las Vegas rejoice at the vast range of possibilities in surrounding San Miguel County. Birders don binoculars for a day at the Las Vegas National Wildlife Refuge in hot pursuit of 271 documented species.
Canoers and kayakers find their way to Mc Callister Lake and hikers trek to Gallinas Canyon in the Carson National Forest or the Pecos Wilderness of the Santa Fe National Forest to take in spectacular scenery and elevations rising to 13,000 feet.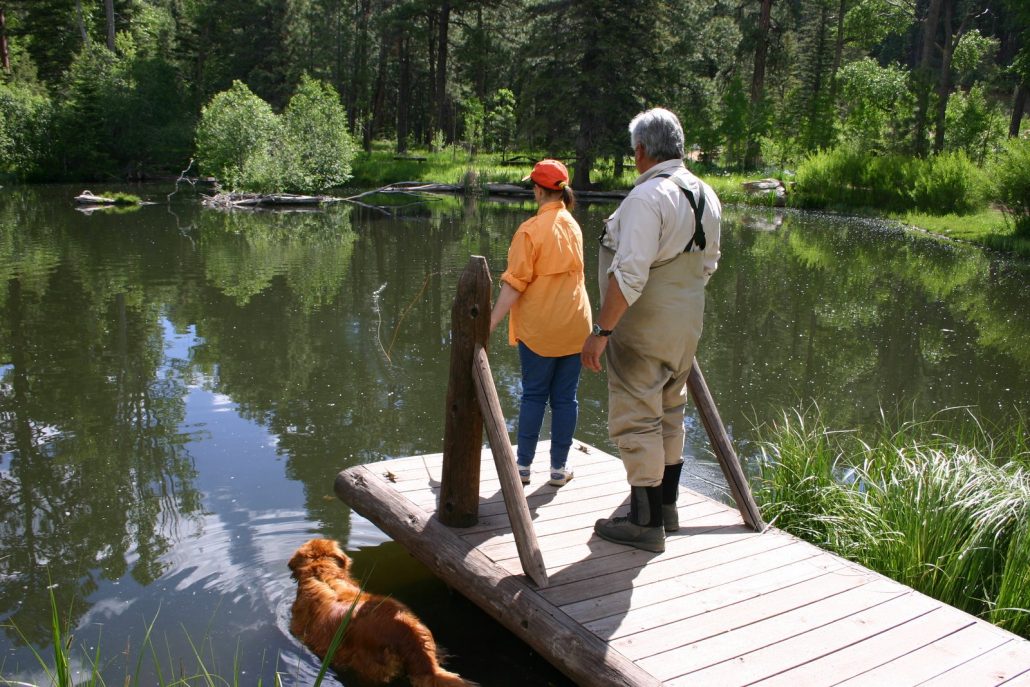 Fishing enthusiasts go after walleye, bass, crappies and bluegills on one of several lakes in the Pecos Wilderness Area or head off to sublime private enclaves on scenic stretches of the churning Pecos River to coax rainbow and brown trout out of the froth.
Like Clyde Pickett's rope baskets and Bambi Doe Blake's stick dolls, a hidden artistic talent led another Las Vegas resident to national recognition in art circles.
Margarito Mondragon was a heavy equipment operator with the New Mexico State Highway Department until his retirement in 1995. He had no particular interest in art but both his grandfather and great-grandfather were renowned santeros, creators of devotional art depicting Catholic patron saints and displayed on home alters.
With time on his hands and "I can do that!" determination, Margarito decided to try painting retablos, small oil paintings on wooden panels, a genre of folk art deeply rooted in Spanish history.
He had immediate success selling them at area art fairs, and was eventually juried into the coveted Santa Fe Spanish Market, a 54-year tradition that draws serious collectors from around the world.
A visit to the Mondragon home and studio was an inspirational experience in itself. Walls that were not covered with carved and painted santos and alter screens were covered with blue ribbons.
Margarito with his wife Gloria at his side spoke humbly of his accomplishments, leading visitors from room to room to point out his favorite bultos (carvings in the round) and retablos (paintings on wooden panels).
He acknowledged with a smile that the leap from heavy equipment operator to renowned santero with works displayed in international museums and galleries might surprise some, but both he and Las Vegas take it all in stride.
That's the intriguing thing about Las Vegas, New Mexico. You never know what you might find when you visit, but be assured it will be interesting, thought-provoking, and richly rewarding.
And there won't be a casino in sight.
###
This "Traveling Writer" column was originally published in several Midwest newspapers
http://www.traveling-writer.com/wp-content/uploads/2016/11/Fly-fishing-for-trout-near-Las-Vegas-NM.jpg
1067
1600
Betty Stark
http://traveling-writer.com.225.69-195-198.groveurl.com/wp-content/uploads/2013/09/logo1.png
Betty Stark
2016-11-28 08:48:48
2016-11-29 13:24:57
The "Other Las Vegas"