Culebra is a tiny island, a mere speck on some maps, a dot off the east end of Puerto Rico that is barely visible from aloft when you fly from San Juan to other Caribbean islands.
I've probably not noticed it dozens of times as I've traversed the Caribbean, but recently I read a New York Times account about its spectacular beaches and offbeat population, and convinced my skeptical husband that Culebra (pronounced coo-LAY-bra) was worth a visit.
The Times writer and plenty of others painted similar pictures of the island: sleepy, undiscovered, forgotten, and quiet.
By contrast, Culebra's beaches were described with over-the-top superlatives: spectacular, stunning, best-in-the-Caribbean, uncrowded, powdery-white.
It seemed an improbable combination. Gorgeous beaches without hoards of people? Highly unlikely, we agreed.
Intrigued, we booked a flight from Chicago to San Juan, Puerto Rico and another on Air Flamenco from San Juan's local Isla Grande Airport to the island of Culebra.
The small island-bound aircraft carried only six passengers. Though our backgrounds were diverse, we discovered we were all headed to Culebra for the same reasons: quiet relaxation, quality beach-and-water time, and a chance to connect with other travelers and the friendly people who call the island home.
To our surprise, we would see each of these passengers, often several times, at restaurants, shops and even on a remote beach. We learned that on Culebra, much like the friendly bar in the sitcom "Cheers," before long almost everybody knows your name.
The small island has a colorful history. Columbus first spotted it in 1493 during his voyage to the New World. Pirates like the swashbuckling Sir Henry Morgan commandeered the island as a hideout. Some say their treasures are still buried there.
Culebra became part of the United States in 1898, after the Spanish American War, and in 1909, President Theodore Roosevelt proclaimed it a national wildlife refuge.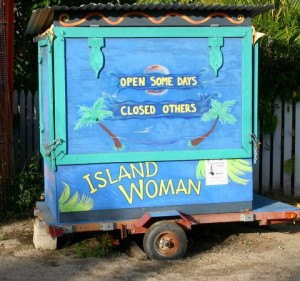 Despite this peaceful designation, the U.S. Navy and Marine Corps used it as a practice bombing range during World War II. The much-criticized assault continued until 1975, when then-President Nixon issued an order ending all weapons training.
Along with stunning beaches, excellent snorkeling, diving (there are said to be more than 50 worthwhile sites around the island) and balmy weather, visitors today are attracted to Culebra by its laidback lifestyle and the friendliness of the some-2,000 residents.
The only town, Dewey, is not postcard pretty, but spend a day or two ambling the streets, visiting the few restaurants and shops, and exchanging life stories with the cast of quirky characters at the Dinghy Dock, Mamacita's and a few other hang-outs,  and you'll probably agree that the place grows on you.
Rent a car for a day or two to explore the seven mile length and four mile width of the arid island's twisty, hilly, potholed roads, and you'll also agree that the beaches, once you find them, are among the most beautiful—and uncrowded—you've ever seen.
Flamenco Beach—the island's busiest, and that's relative—has been named one of the most beautiful in the Americas by the Travel Channel.
If the crowds are too much, simply walk over the hill to Carlos Rosario Beach, or hop in your car and head to secluded Zoni Beach where it's easy to while away long hours snorkeling, beach-walking, or mindlessly observing the strange antics of skittering sand crabs.
Don't come to the island looking for glitzy resorts, spas, golf courses, tennis courts—or for that matter, night life, stop lights, Starbucks or a Ralph Lauren shop.
Lodging consists mostly of small guest houses, some situated in Dewey on the Ensenada Honda, a large bay that is one of the most protected "hurricane holes" in the Caribbean. Other places are tucked on hillsides overlooking stunning turquoise bays.
Chatting with the owners at the small Casa Ensenada Waterfront Guest House, we learned that many island residents are transplants from the U.S. mainland, drawn there either seasonally or year-round by the low-pressure lifestyle.
Meeting them here and there around the island came naturally and before a day or two passed we had met an interesting collection of island friends.
Mike, a former product manager from Proctor and Gamble told us he quit the rat race after 16 years as an around-the-world road warrior to run a small on-island property management shop.
Kevin, a former hotel manager, confided he is now content to greet guests like us at an open-air bar-and-grill high on a breezy hillside with views all the way to St. Thomas.
Bonnie, a seven-time Emmy-winning former CNN journalist, shared in detail how she quit the network in protest over their hiring practices to write a tell-all book. She is now blissfully happy captaining her own 30-foot charter fishing boat off of Culebra's shores.
Like seasonal residents, the year-round locals are very friendly. As we strolled around town nodding "hello" to everyone we passed, we noticed that there was no frenzied selling at any of the shops, no timeshare operators poised to snatch us off the streets, no neon "close-out sale" signs marring the sunny landscape.
A colorful roadside cart, shuttered when we passed by, bore a sign that read: "Open some days. Closed others."
"Perfect," we agreed. That in a nutshell, is Culebra.
http://www.traveling-writer.com/wp-content/uploads/2013/09/image1-4.jpg
713
1200
Betty Stark
http://traveling-writer.com.225.69-195-198.groveurl.com/wp-content/uploads/2013/09/logo1.png
Betty Stark
2013-09-22 23:54:42
2014-10-08 12:03:53
Trekking Beaches and Making Friends on Laid-back Culebra Island